The Saucony Kinvara 3 running shoe is my current running shoe of choice, although I do believe in rotating shoes if you can manage it financially.  Currently I am only running in this shoe, however.  I love it.
For warm weather running, I prefer the Nike Relay Strappy Tank because it never chafes me and it has a pccket in the back for a Gu.  However, since I only own one of them, I also wear Hanes wife-beater style cotton tanks as well.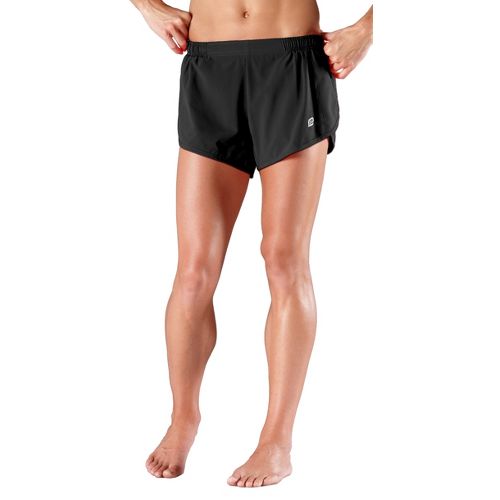 The Roadrunner Sports Speed Girl 2 1/2″ split short are my absolute absolute favorite shorts.  I only own one pair, but I wash them and wear them almost every day.  They are short, yes, but they never chafe me.  (This model above is not me.  She has been blessed with a lot more muscle, lucky girl. )
I haven't been wearing these too often this summer, but I love love CEP Compression socks for colder weather and for marathons.  I feel like my legs stay fresher for longer when I wear them.
I just cannot tell you how much I love these Shot Bloks.  My favorite, by far.  Yes, they are salty, but when you are the kind who would rather have chips and guacamole over cake any day of the week, these are perfect. (Just add water.)
Finally, when salt won't do the trick, the only, absolute only flavor of GU I can stomach:
Because it is like licking the spoon after you've made brownies even when you know you are slurping on some raw egg.
And finally, keeping the girls in place:
Tight?  Well, yes.  But that's just how I like it.
And there you have it.  The gear that keeps me popping out of bed at 4:45 a.m. and getting crazy looks from the neighbors.