One of the things I love about the Hansons training method is that you get to run tons of miles each day instead of holding yourself back for one or two major workouts per week.  And the fact that the book is called "A Renegade Path to Your Fastest Marathon."  I like the sound of that. (I have been loosely following this method of training for my past three marathons).
The best thing about the book is that everything is laid out in terms that are understandable, like this chart below:
Instead of sitting around wondering how long your long run should be based on your mileage, you can just look at the chart.  Right now I am just where I should be, 18 miles for a 60 mile week. (As long as I cooperate with the weather.)
I also am loving this article about how Geoffrey Mutai trains for Boston, and it seems like a similar plan to the Hanson's way, minus the 25 MILE LONG RUN!  I don't think Kevin Hanson would be too keen on that workout.
Anyway, training seems to be going a bit better this week in large part because I have been feeling strong, well-fed and a bit quicker on my feet.
These bars, which I originally bought for the boys, have been amazing before my runs.
And these shoes, the Adidas Adizero Boston 3, which I randomly found on Amazon a few months ago for an insanely cheap price, have been helping me through my speed(ish) work.  I think they this color was unpopular for some reason, because all of the other colors were full price.
Even though these shoes are technically traditional, and aren't even super-light (about 8.5 oz.), they feel like nothing on my feet.  My legs are a bit more achy after running in these than they are after running in my Ghosts or Wave Riders, so I stick with those for most of my miles.
Ironically, Oldest was also fitted in some Adidas Aegis this week, and he loves his too.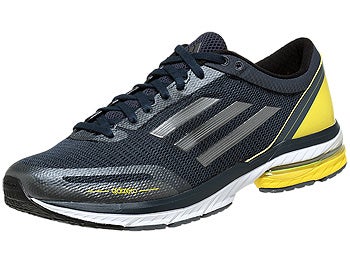 He came home from school complaining of achy knees. We quickly determined that he had 480 miles on his Mizuno Wave Precision 13s and that it was probably a good idea to replace them.  You know, if he wants to hold his joints together.
Other than that we have sort of have an uneventful around here, especially since my attempt at putting fizz into my kombucha was a total fail.
I had high hopes for double fermentation, but my brew still came out flat.
Back to drawing board.  Again.
That is what I love about all of this marathon training, child-rearing and kombucha-brewing.  If at first you don't succeed, you must try and try again.
Well, I guess that doesn't apply to child-rearing.  Otherwise, what would therapists do for a living?